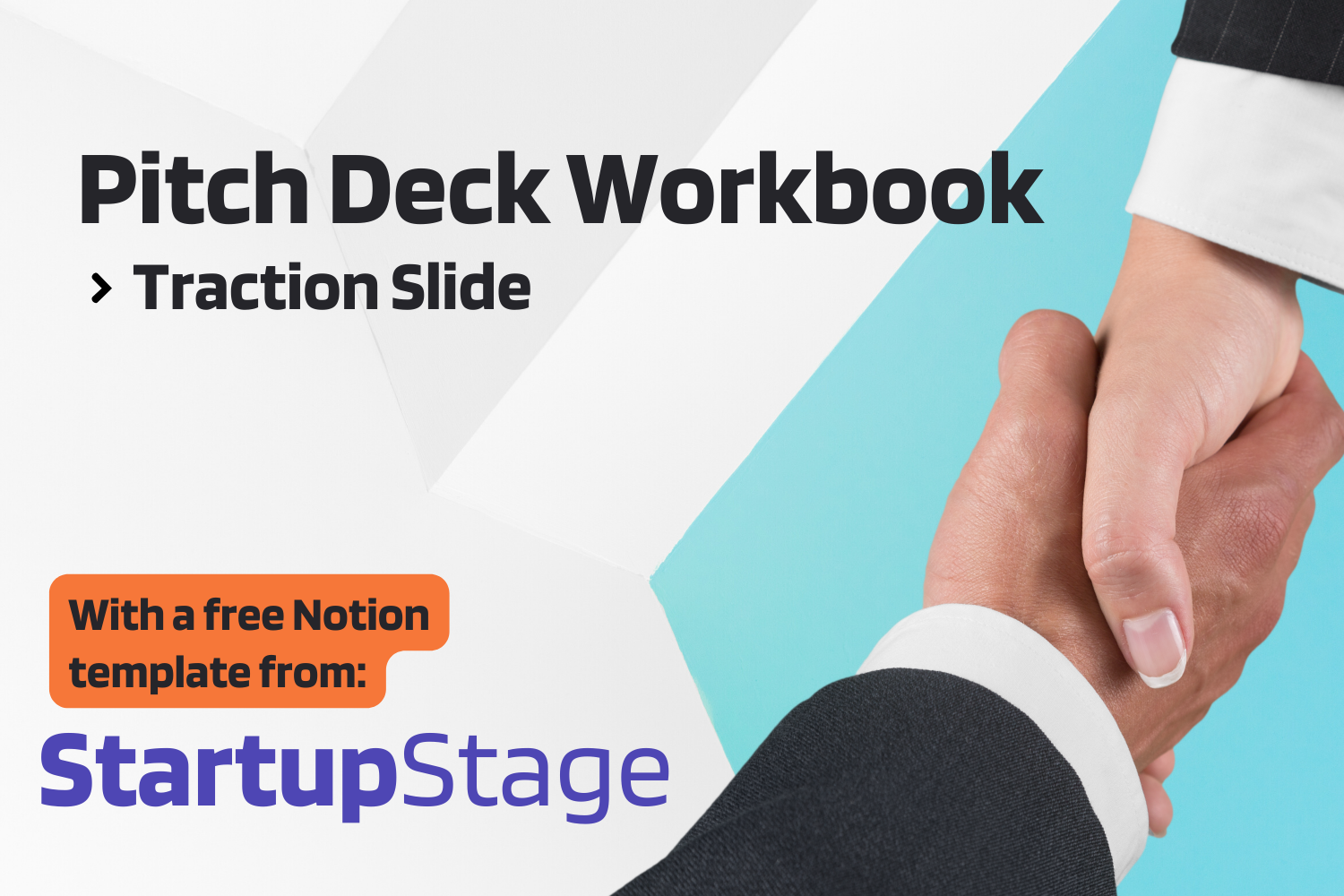 Below you'll find my high-level guidance on the traction slide of your pitch deck. Scroll to the bottom to jump to a different slide or download our free workbook.
Guidance
This is your opportunity to show your progress and demonstrate any market validation you have achieved. Your goal should be to communicate the growth you've already experienced and highlight your potential for future growth.
I like to say "if you can get 1 customer, you can get 10 customers. If you can get 10 customers, you can get 100 customers" etc.. Proving that people are willing to pay for your product or service is a great example of market validation– there are almost certainly more people like them who would be willing to pay for your product.
Traction does not always have to be about money. If your company is pre-revenue, metrics such as survey responses and waiting list signups signal interest. However, you should only choose metrics that are "undeniably important." For example, an increase in web traffic alone is not undeniably important unless it results in an increase in sales, conversions, etc.
If you've landed any high-profile customers or clients, you may want to include their company logos on this slide. Avoid any exaggeration though– a Google employee using your product is not the same as having a partnership with Google!
Checklist
Include the "undeniably important" metrics

Include the timeframe in which the metric was achieved. Ex. "50 paying customers in three weeks"

Include visual aids, such as graphs and charts

Customer logos, if relevant.
Conclusion
There you have it: My high-level advice for the traction slide in your pitch deck. If you're looking for slide-by-slide guidance, jump to any section below.
Pitch Deck Guidance Glossary
Free Pitch Deck Workbook
We're excited to share the release of The Founder's Pitch Deck: a workbook-style Notion template with slide-by-slide guidance and inspiration.
Here's what's included:
1. A step-by-step Notion workbook guiding you through every slide of your pitch deck.
2. A built-in note-taking system to capture your ideas and inspirations.
3. An automation feature that presents you with a summary of your notes, ready for your pitch.
4. A selection of customizable Canva slide templates to create visually stunning presentations.
5. A comprehensive Notion database to keep track of your fundraising journey.
We want to get your company backed by the right people, so we're making this resource completely free. Click here to download it from Gumroad.
StartupStage is the platform to showcase your startup and compete for features across our channels. Hit the button below to submit your company!