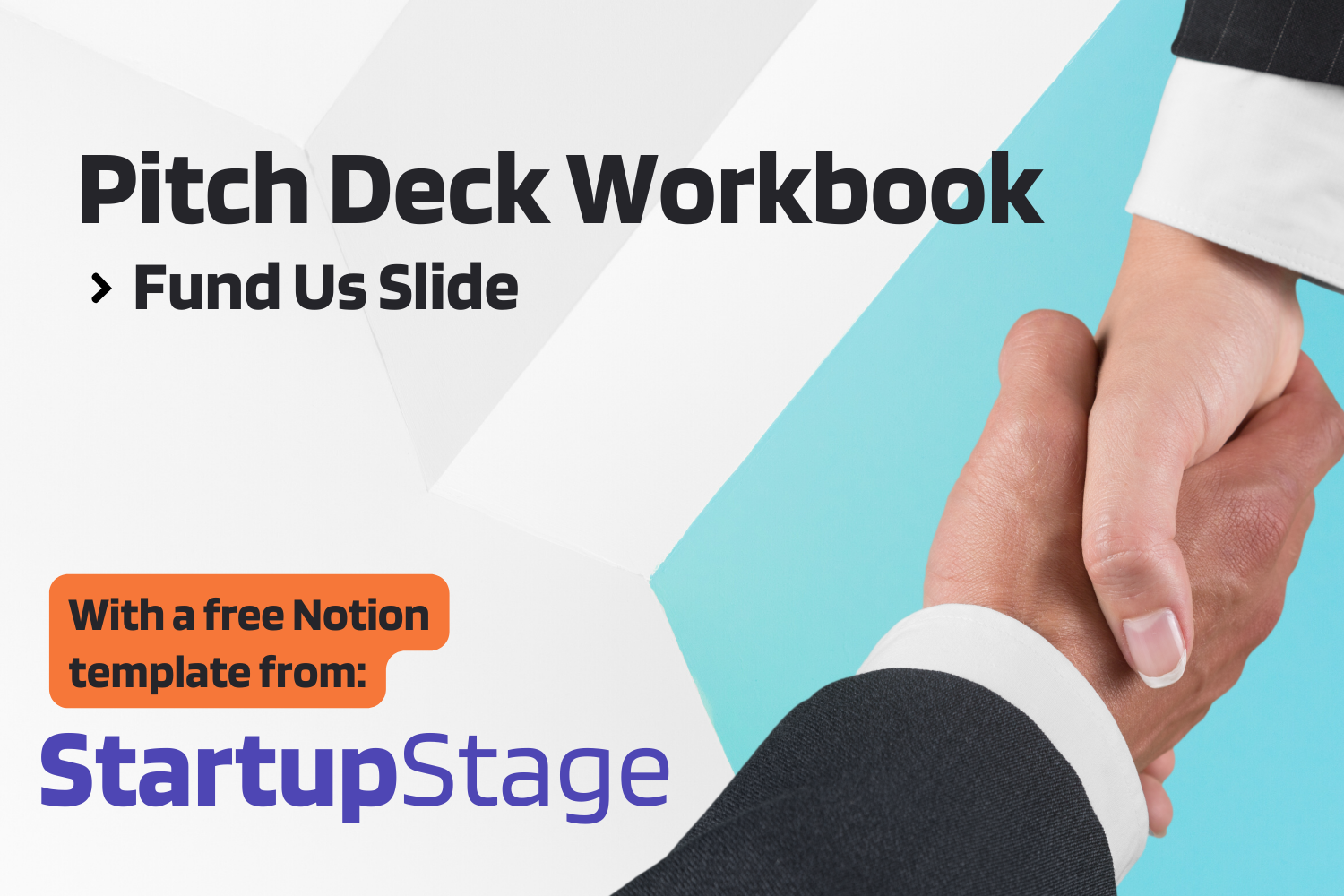 Below you'll find my high-level guidance on the pitch deck "ask" slide. Scroll to the bottom to jump to a different slide or download our free workbook.
Guidance
Here's where you make your ask. What dollar amount are you raising?
You should aim to raise enough money to cover at least 18 months of runway, but no more than 36 months. 24 months is a sweet spot– this will provide 18 months of undistracted execution, and 6 months of raising the next round of fundraising.
Be sure to indicate the mechanism by which you are raising money. Is the round priced or unpriced? Will the investor be buying preferred shares? Are you raising on a convertible note or SAFE?
Unless you already have a term sheet, I don't recommend including a valuation in your deck for priced rounds. You can (and should) have a valuation in mind, but this will often be a negotiation between the founder and the investors.
Checklist
Dollar amount

Fundraising mechanism (preferred equity, convertible note, SAFE, etc.)

Runway (how long the money will last)

Use of funds

Key milestones you will achieve with the money
Conclusion
There you have it: My high-level advice for the pitch deck ask slide. If you're looking for slide-by-slide guidance, jump to any section below.
Pitch Deck Guidance Glossary
Free Pitch Deck Workbook
We're excited to share the release of The Founder's Pitch Deck: a workbook-style Notion template with slide-by-slide guidance and inspiration.
Here's what's included:
1. A step-by-step Notion workbook guiding you through every slide of your pitch deck.
2. A built-in note-taking system to capture your ideas and inspirations.
3. An automation feature that presents you with a summary of your notes, ready for your pitch.
4. A selection of customizable Canva slide templates to create visually stunning presentations.
5. A comprehensive Notion database to keep track of your fundraising journey.
We want to get your company backed by the right people, so we're making this resource completely free. Click here to download it from Gumroad.
StartupStage is the platform to showcase your startup and compete for features across our channels. Hit the button below to submit your company!