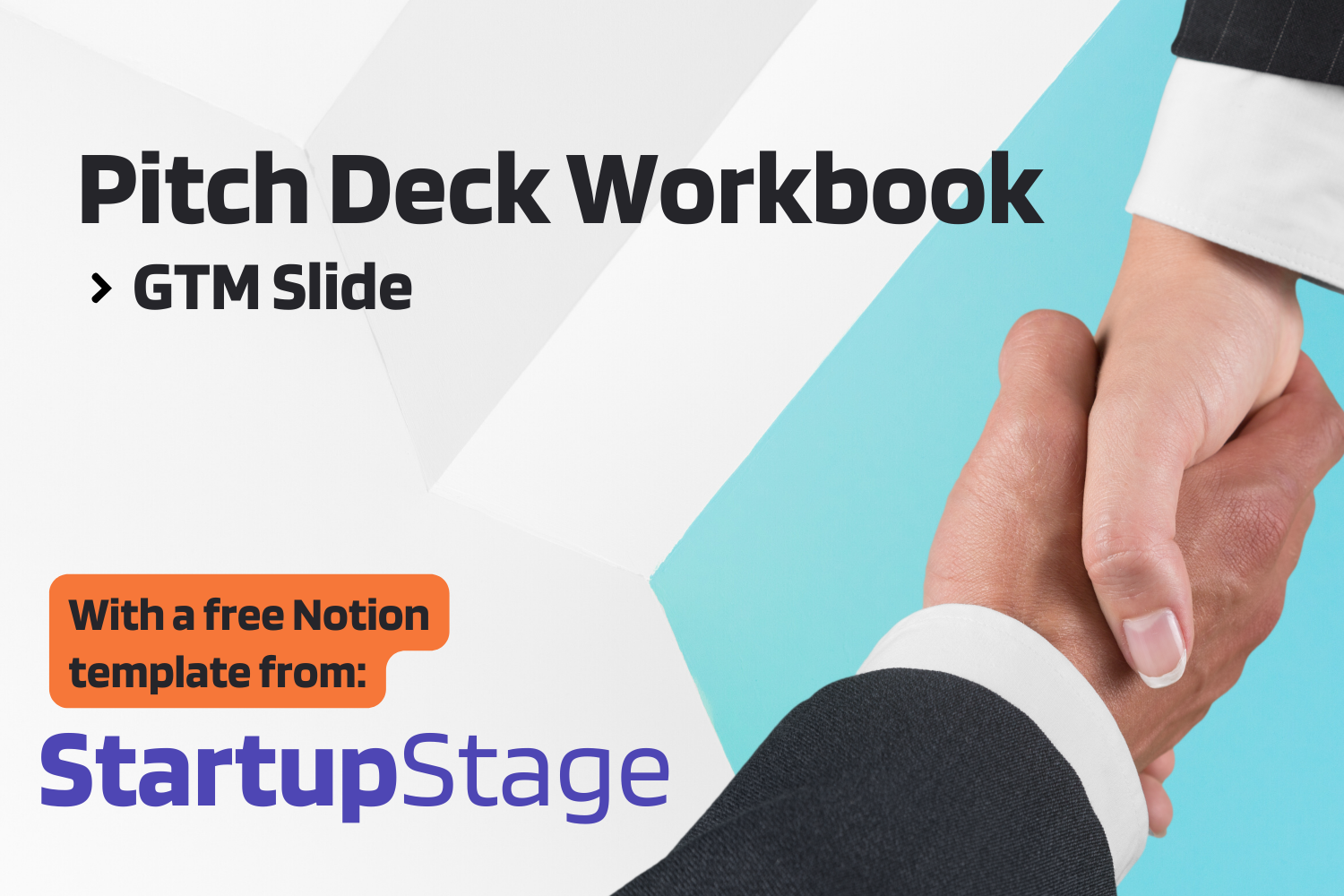 Below you'll find my high-level guidance on the "go-to-market" (GTM) slide of your pitch deck. Scroll to the bottom to jump to a different slide or download our free workbook.
Guidance
The go-to-market (GTM) slide outlines the strategy and tactics your company will use to reach, engage, and convert customers. This slide should communicate your deep understanding of the market, and your approach to winning it over.
Start narrow and specifically: What audience or market are you going after first (aka your "target market")? Why this market? What is your plan for rolling out your product to a larger population or geographic region?
Drill down on the specific campaigns you will utilize:
Advertising?

Referral/affiliate marketing?

Email outreach?

Partnerships?
Data such as customer acquisition cost (CAC) and conversion rates can be a useful addition to this slide.
Checklist
What customers are you targeting first?

How will you target them?

Relevant data points
Conclusion
There you have it: My high-level advice for the go-to-market strategy slide in your pitch deck. If you're looking for slide-by-slide guidance, jump to any section below.
Pitch Deck Guidance Glossary
Free Pitch Deck Workbook
We're excited to share the release of The Founder's Pitch Deck: a workbook-style Notion template with slide-by-slide guidance and inspiration.
Here's what's included:
1. A step-by-step Notion workbook guiding you through every slide of your pitch deck.
2. A built-in note-taking system to capture your ideas and inspirations.
3. An automation feature that presents you with a summary of your notes, ready for your pitch.
4. A selection of customizable Canva slide templates to create visually stunning presentations.
5. A comprehensive Notion database to keep track of your fundraising journey.
We want to get your company backed by the right people, so we're making this resource completely free. Click here to download it from Gumroad.
StartupStage is the platform to showcase your startup and compete for features across our channels. Hit the button below to submit your company!