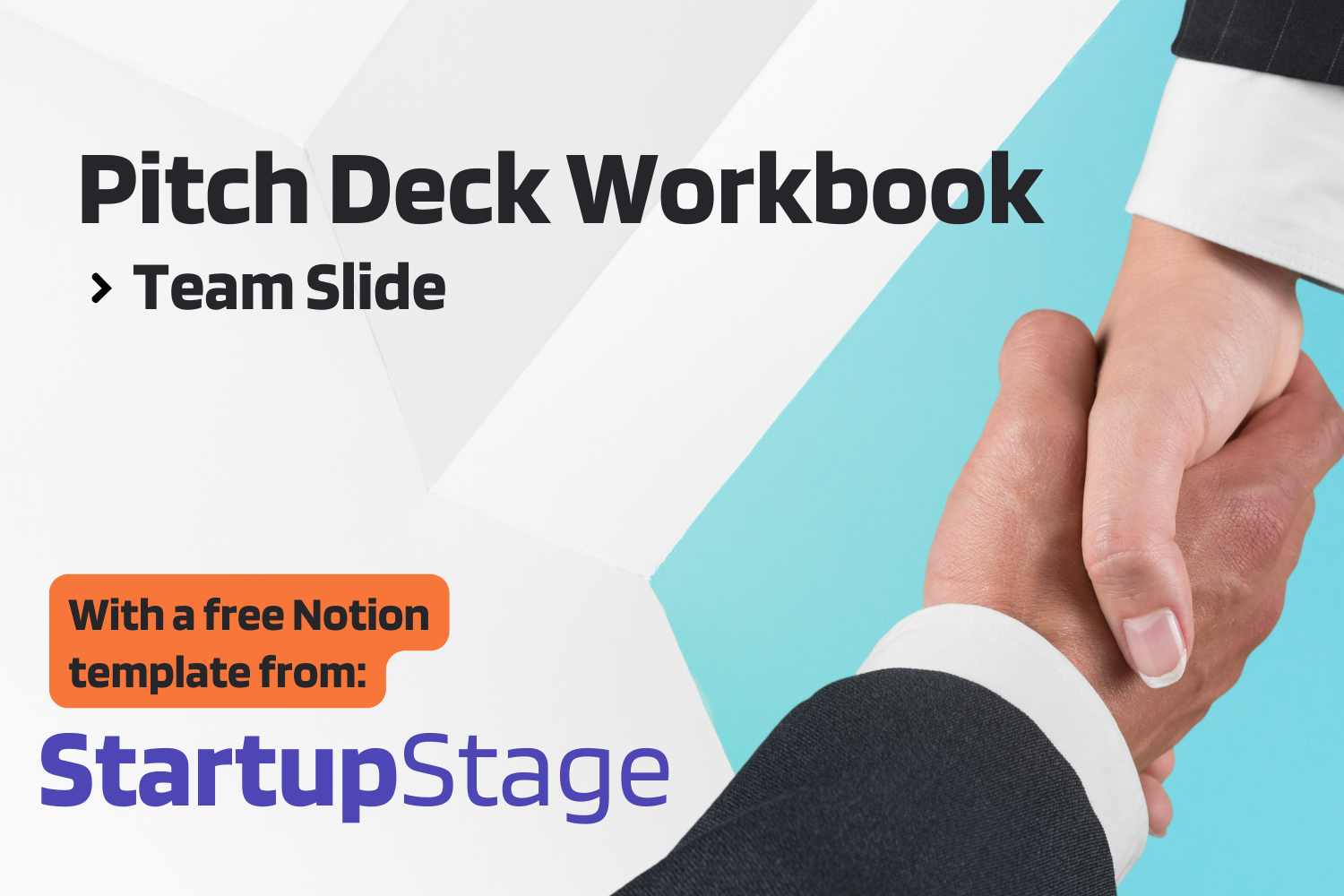 Below you'll find my high-level guidance on the pitch deck team slide. Scroll to the bottom to jump to a different slide or download our free workbook.
Guidance
No one wants to look through 20 bios. Keep this slide to the core team, but spend more time on each profile:
What have you built before?

What makes you uniquely positioned to take on this challenge?

How do the team's skills complement each other?
The younger your company, the more important your Team slide is. At the earliest stages, investors are largely betting on the team, rather than the company. There are too many variables to predict the company's success with any real confidence, but great teams find a way.
Great teams find a way
Don't include advisors in this slide. Having great advisors has become less meaningful over the last decade, as the number of companies with high-profile advisors have increased. It can also be seen as a "crutch" – compensating for a less impressive team.
Moat Note:
Now is not the time to be modest. Show why you and your team are uniquely positioned to address this problem. List your accomplishments, credentials, education, or any other facts that demonstrate your credibility. Remember to "show, don't tell." Listing the awards you've won for being on top of your field is more powerful than saying "I'm top of my field."
Checklist
Pictures

Use brand colors for the background

Name and Title

A short paragraph about the teammate's background, successes, and

founder-market fit

Logos from previous companies (optional)

I only recommend using logos from your previous employment if they are recognizable companies. Otherwise, it's a distraction.
Note: We made some templates in Canva to help you put this slide together. They are part of the Founder's Pitch Deck Notion Template which you can download for free below.
Conclusion
There you have it: My high-level advice for the pitch deck team slide. If you're looking for slide-by-slide guidance, jump to any section below.
Pitch Deck Guidance Glossary
Free Pitch Deck Workbook
We're excited to share the release of The Founder's Pitch Deck: a workbook-style Notion template with slide-by-slide guidance and inspiration.
Here's what's included:
1. A step-by-step Notion workbook guiding you through every slide of your pitch deck.
2. A built-in note-taking system to capture your ideas and inspirations.
3. An automation feature that presents you with a summary of your notes, ready for your pitch.
4. A selection of customizable Canva slide templates to create visually stunning presentations.
5. A comprehensive Notion database to keep track of your fundraising journey.
We want to get your company backed by the right people, so we're making this resource completely free. Click here to download it from Gumroad.
StartupStage is the platform to showcase your startup and compete for features across our channels. Hit the button below to submit your company!